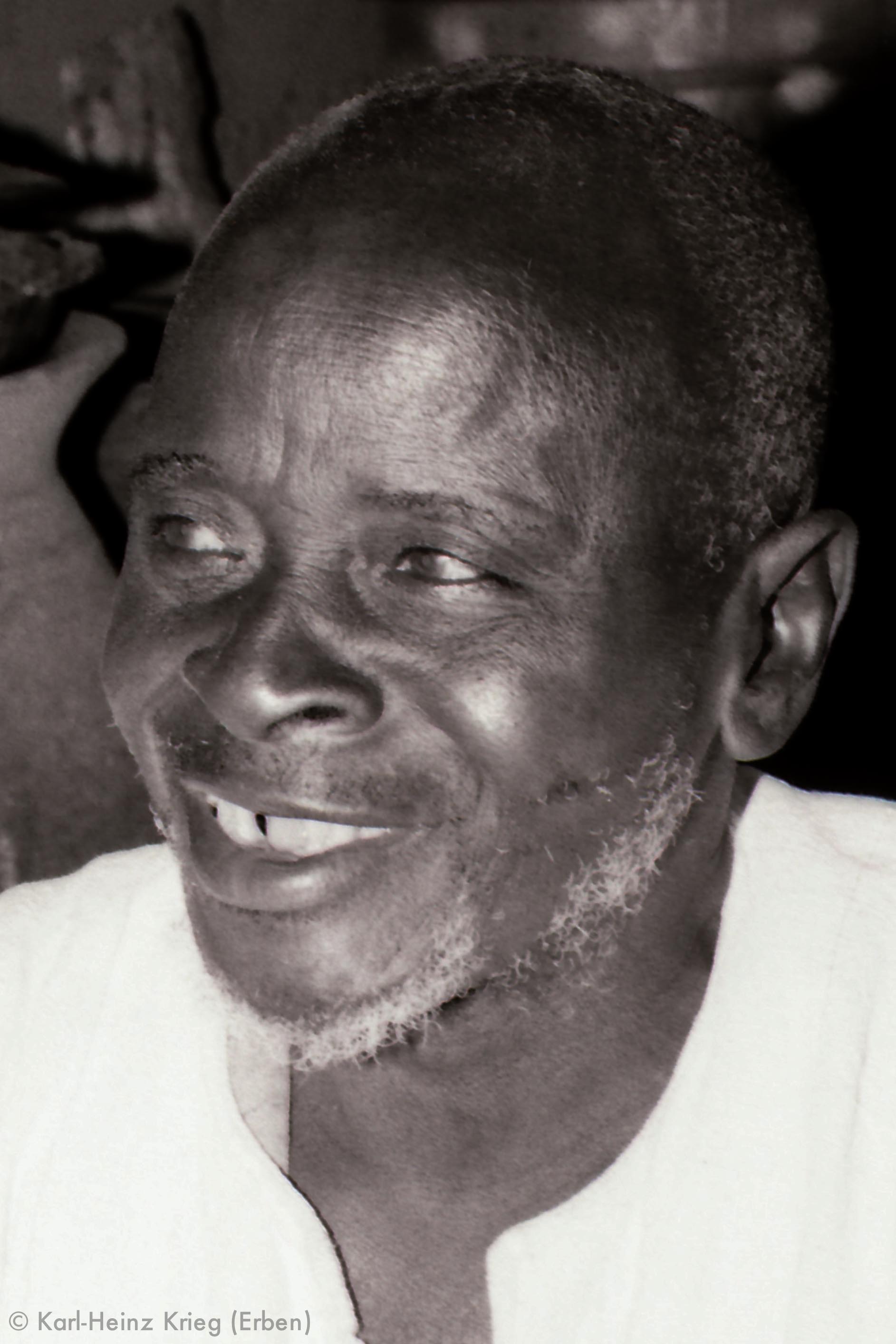 Fono sculptor, c. 1914–1986
Sirasso, Côte d'Ivoire
As a Fono blacksmith his uncle made farming implements with Songuifolo Silué assisting him by pumping the bellows at the forge. He worked with his uncle first in the village of Sirasso and later in Ouazomon where the master carver Sabariko Koné lived and carved. Leaving Ouazomon, Songuifolo Silué returned to live in Fononlara where he was twice drafted to serve in the military. He ultimately settled in the village of Sirasso where he worked exclusively as a carver.
It was while in Ouazomon that he began to carve informally learning from Sabariko Koné by simply watching him carve. Taking no formal instruction he responded to Karl-Heinz Krieg's question of training during an interview saying: "Did you think that I would have carved along with him? Hey! No. When I went to him it was only to watch him work, I then went to my house and carved all by myself." (Songuifolo Silué, 1977)
Songuifolo Silué sculpted over an extended period of time carving a wide variety of objects. He was known for carving the small Gniniguifewi figures used for personal shrines and Sando altars, heddle-pulleys, farmer's trophy staffs and masks. He carved in a number of styles depending upon the object and client. Smaller objects were sculpted in a simpler and more basic form and when he was commissioned to carve larger figures requiring greater detail he worked as he said in the way he had been taught.
During the years 1975 to 1980, Songuifolo Silué carved a number of figures and masks for Karl-Heinz Krieg documenting his technique and style. When asked why he continued working as a carver after returning from the military he answered: "I could not live without work. Also, I loved my work, my father's work (as a blacksmith). Although I had a pension, working as a blacksmith and the carving gave me my livelihood." (Songuifolo Silué, 1985)
Songuifolo Silué used his traditional carving tools to carve figures from freshly cut wood. The greatest part of the carvings was done using different adzes and only at the very end, he turned to using a knife to carve the details of head and body. Fibers from recently cut red tree roots were used to color the figure. After the paint had dried, it was covered with mud from the bottom of a stream that contains a high amount of ferrous oxide and other organic materials. The figure was then allowed to thoroughly dry in the sun. After drying the figure was rinsed with water to remove the mud. Vegetable fat (shea nut butter) was rubbed over the now black figure to give it a glossy appearance.
Objects by Songuifolo SiluÉ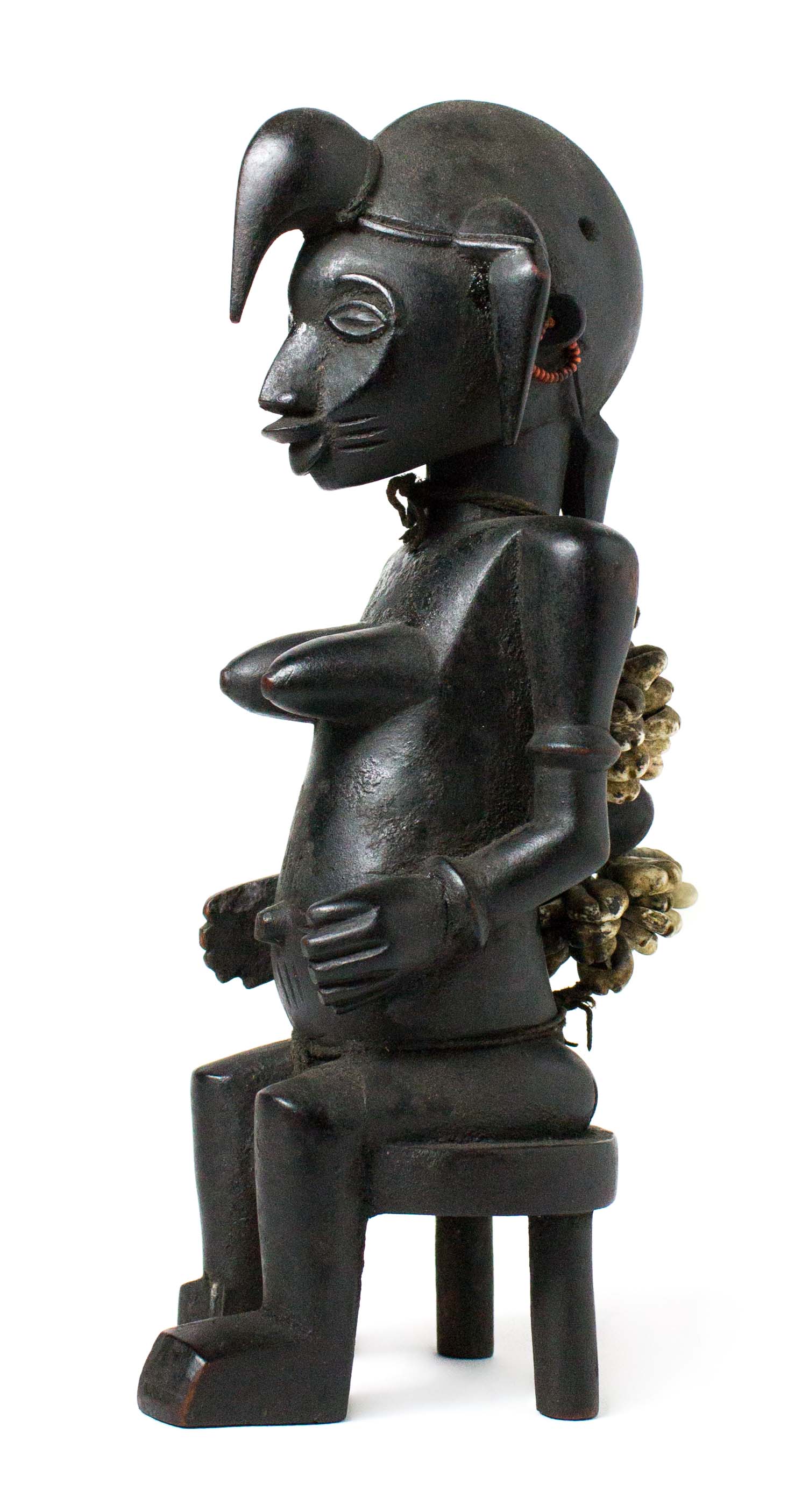 Female figure
Songuifolo Silué
Acquired in 1971 by the Senufo group in Siempurgo (Côte d'Ivoire)
The figure was used as top of a farmer's champion's staff, carved separately from the staff and put together and fastened with iron pins.
Wood, cowrie shells, glass beads, string, H. 26 cm
Kunst und Kunsthandwerk aus Westafrika, Karl-Heinz Krieg, Leverkusen, 1980, p. 38
Kunst und Religion bei den Gbato-Senufo, Elfenbeinküste, Krieg and Lohse, Hamburgisches Museum für Völkerkunde, 1981, p. 49
Aus Afrika. Ahnen – Geister – Götter, Zwernemann and Lohse, Hamburgisches Museum für Völkerkunde, 1985, p. 22, 65–66
Afrika – Begegnung. Künstler Kunst Kultur aus der Sammlung Artur und Heidrun Elmer, 2002, p. 42, 67
Wenn Brauch Gebrauch Beeinflusst, Ehrhard, 2013, p. 102–103
Yale Archive, no. 0132789
Zemanek-Münster, Tribal Art Auction 88, 10 March 2018, Lot 225, Sammlung Kirbach-Kreß
Bibliography
Private notes taken in the field, Karl-Heinz Krieg
Kunst und Kunsthandwerk aus Westafrika. Mit einem Vorwort von Dr. Klaus Volprecht, Karl-Heinz Krieg, Leverkusen, 1980, p. 18–19
Kunst und Religion bei den Gbato-Senufo, Elfenbeinküste, Krieg and Lohse, Hamburgisches Museum für Völkerkunde, 1981, p. 47–49
Text: Helen Krieg and Daniel Mato, PhD